Holy yawning and tears streaming down the face ... does yawning cause your tear ducts to open, or what? I am feeling totally exhausted. I didn't think I exerted myself that much today, however my brain seems to be thinking otherwise.
Going through the usual routine first thing this morning, it continued on, not without at least consuming two cups, or was that three, of java. I do need me my coffee first thing.
The Taxi business is kind of slow at the first of the New Year, so Rob wasn't planning on going in to work until late this morning. Instead he took me downtown on some errands; the usual, banking, check the Lottery ticket (when I remember to buy me one), stop at the mechanics to see when he can check why my engine light as it is lite up like the 4th of July, drop around to pickup a parcel waiting for me ....
"What a way to begin the New Year with some HAPPY MAIL right off the bat !!! This is the Recipe Book I won through a Virtual Cookie Exchange over at Author Steena Holmes website, Pop on over to have a "look see" at Steena's website yourself HERE. Watch out there will be some new cookies baking in the "North of Wiarton" kitchen come Christmas 2013 !"
Once we had all our running around and errands done, we hightailed it back home so Rob could get himself ready to take off into his "
Crabby Cabbie
" world.
"Before I know it all that leftover Turkey will have magically disappeared into the vastness of a "Crabby Cabbie" guy I just happen to know. Lots of concentration, as you can tell by this photo, goes into the "art" of making one self a Turkey sandwich or two or three."
With Rob off to work, I got going a pot of Turkey Soup started by first getting a stock together to simmer for a couple hours or so on the stove top.
"Turkey carcass into the stock pot covered with cold water. Veggies gathered on the counter top while I went outside to snip some Rosemary from just above the snow. All into the pot it went to simmer the afternoon away."
"Later in the afternoon the stock was strained of carcass and veggies. Look at the rich dark Turkey stock I gained .... a whole Dutch Oven full to sit overnight in the fridge for the fat to gel so I can skim it easily off the top. Tomorrow the Turkey Soup adventure continues .... stay tuned."
While the Turkey stock was simmering the afternoon away, I couldn't possibly do the same (or could had I?). I got myself busy with the dusting and cleaning of our bedroom, it is Wednesday you know. Carla at
My 1/2 Dozen Daily
has put forth the mini-challenges for the first week of the January Challenge, so I thought I best comply to what she had set out:
Financial Goal Week One: Instead of buying something you need this week, f

ind a way to "make do". Do you grab a coffee each day on the way to work? can you brew at home & use a travel mug? Run out of an ingredient for a recipe? Can you find a substitution? There are many ways to "make do" each & every day... t

rack how much you would have spent.
I am going to make "do" by drinking coffee we have at home, not allowing having asked Rob not to buy us any Tim Horton's coffee this week, even though we need crave it..
Decluttering Goal Week One: What "thing" clutters up your home the most? Is it clothes? Toys? Books/magazines? Kitchen Stuff? Knick-Knacks? Find a way to get rid of some of these items! Be sure to snap a pic of your declutter!
This second one I got to after I had cleaned our bedroom, since I was already in there anyway.
"Three bags full ... one for my Master, one for my Dame, one for the hopefully somebody else that lives far away from my lane ! Clothes, belts, a couple of DVDs, books ... oh man why do I keep this stuff for so long !"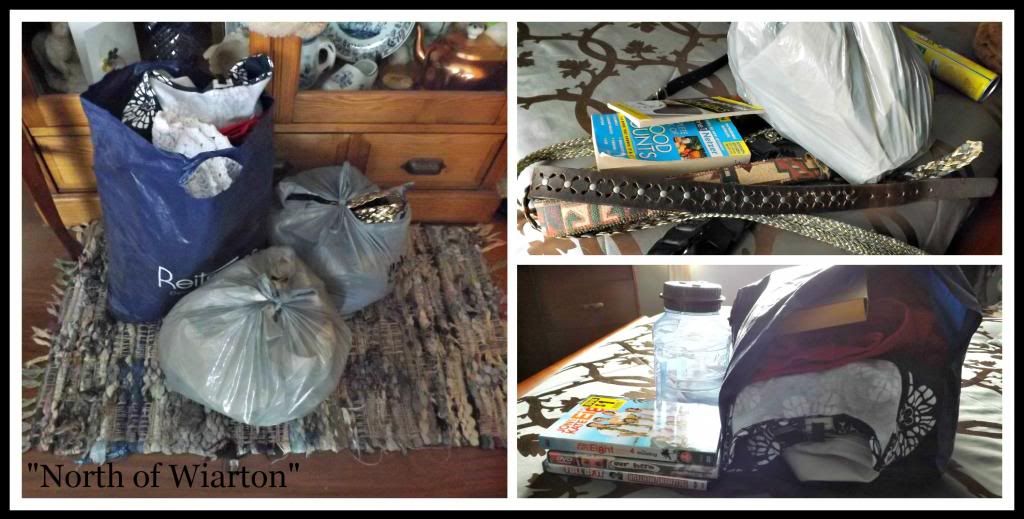 "Then I made myself a nice cuppa tea. I have a lovely variety I have been enjoying from what my friend BJ had gifted me a while back. A tea for almost every time of the day there is. I do LOVE me my new Tea Tin I had bought myself last week too, is it not the "cutest"? "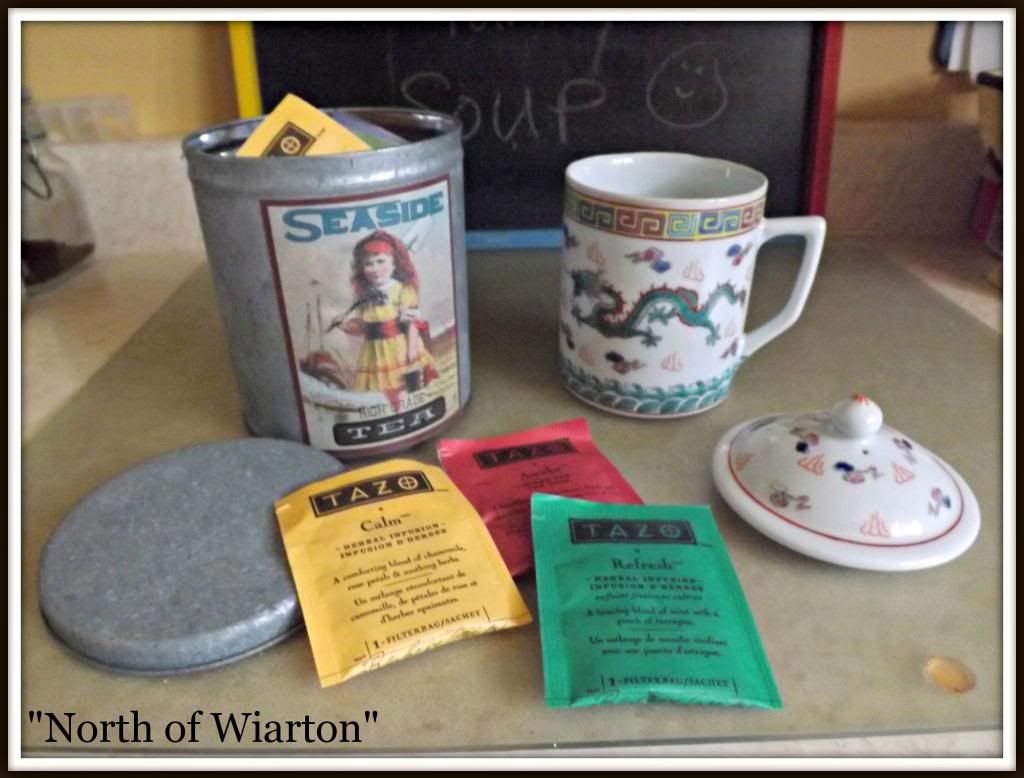 With Tea time over it was "Checkerboard Aussie" time. I bundled up and headed on downstairs to take each on out one at at time (as the girls get fighting sometimes too much, and I just don't like it). Looking at Missy Mercedes in her kennel, I wondered what was on the floor of it.
"It didn't take me long to figure out that this is all that was left of the collar that had once been around her neck. Jeez that girl will be pooping out material once again. Since she has been a puppy she has eaten socks, or any type of material within her reach, such as rugs, etc ... this is the second collar. Think it might be time for a metal choker next time around."
Warning to all Pet Lovers, should your dog consume any materials, as my sweet little Missy Mercedes does from time to time, please if you should see any come out the "other end", do NOT pull it out !!! as it could be wrapped around something internally. Let it come out naturally. Should your pet consume such materials and has not passed it in a few days, along with showing signs of stress, please contact your Vet immediately.
Really as a Pet Owner, our parenting skills are not to be left on the counter to collect dust at anytime.
Ha ... when I was scanning through my Facebook page earlier today, I happened along Lucy and Snoopy, who reminds me of my own Lexus and myself exactly to a "t".
"My Lexus girl makes no bones about "smacking" me with a big kiss right on my nose at any given time."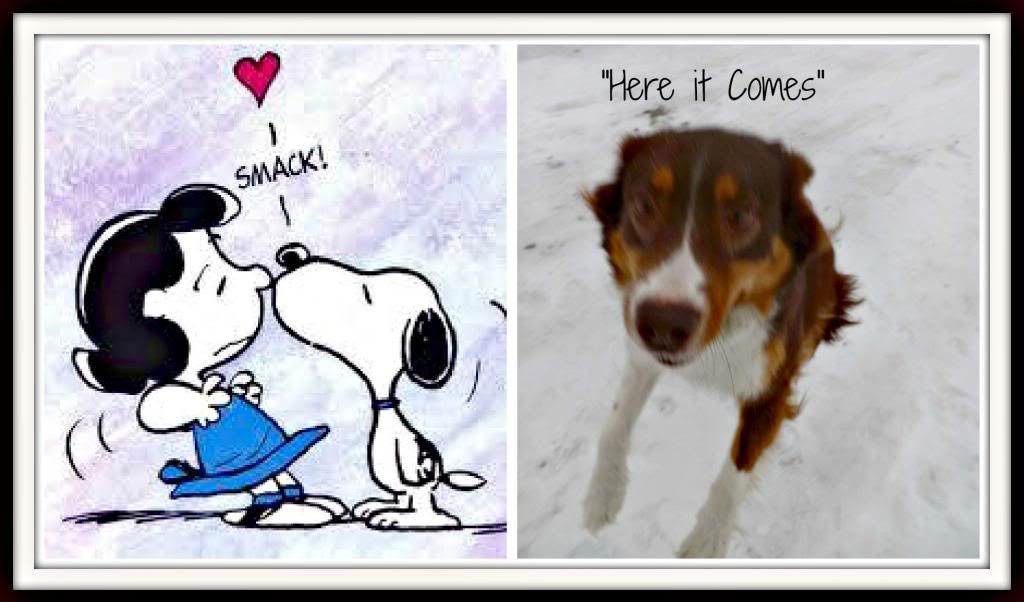 I think a lot, probably some days too much to the point it is probably unhealthy for me to do so, but that is just me. Yesterday I had made my New Year's Goal to try and be more kinder all year through. Last week someone had made a, what I thought to be a unkindly comment, on someones Facebook post. I never commented but it made me think. This was my thoughts ....
We all have to walk in our own shoes, not knowing what is happening in another's walk of life. Please take care in your comments towards judging others when they have to make a decision concerning their life circumstances. We all have had to make difficult decisions at one time or another concerning, I am sure a number of different, life choices, hoping not to be judged by another. Be kind, as you enjoy kindness towards yourself. ~ By "Just Me"
... and this is what I had also posted as my Facebook Status not too long ago this day.
I have been adding a "good" thing to my "Memories with Love" jar every day so far. My best memory for today will be from my young male friend in Ireland who just received my Christmas package today. This was my friend's thanks to me ....
Cindy thank you so so much for the package, I'm so used to just getting bills it was such a treat,the cookies were fantastic just as i knew they would be, I even managed to save a few for after my dinner this evening....I wont return the favour and send you something I baked until a time comes that you might want to poison a family member :)...thanks again xx
That is my friend ... to the point and very sentimental, can't you tell? Ha ! Really Dave? really ? you get bills too? How could we get them to stopping sending them to us ... don't they know how allergic we are !!!
I LOVE me all my friends !!! in person or otherwise. Thanks for being one of them.
Did I mention how exhausted I was feeling today? I think maybe I should bundle up and get myself out with a "Checkerboard Aussie" or two for some fresh air, "Just North of Wiarton & South of the Checkerboard".