Not that our oldest grandson, Aiden, reads my "blog", but it is his Birthday today, and as soon as the clock hits 7:00 a.m., I will be calling to sing "Happy Birthday" to him. However I know I will more then likely not be in key, however I am sure 7 years olds are quite forgiving of this fact.
It was one pretty exciting morning around here yesterday, as the "Tooth Fairy" had made her appearance while we were all sound asleep. Aiden's first tooth must have been extremely valuable to her, as she had left the huge amount of $3.00 !!! Wow, I guess with inflation, and all on the rise since I was 7 years old, that must now be the going rate for a "tooth".
Once breakfast was over with, it was time to enjoy the beautiful day outside and try out Grandma's new wagon......
"Aiden was certainly putting his "all" into it, as Connor is just sitting back enjoying the ride."
"Between Paul playing ball with him, and looking after kids, Bandit was getting pretty worn out at times."
"I am thinking Bandit is really more interested in all his toys the boys have collected and stowed at the bottom of the wagon, then all the apples they have also collected....."
"The chickens needed their lunch before we all had our lunch, and all three were quite interested in watching Poppa complete this chore."
"As I was walking out to the veggie garden, I couldn't resist taking a picture of this beauty on my way by."
After lunch everyone was washed up and packed up so we made our way down to
Bluewater Park
for a couple of hours before the "Riptail Snorters" had to be taken back to their own home.
"Fun was had on all the "fun" stuff to play on in the Park. Fun stuff that is there "thanks" to our local Rotary Club."
"Not only a perfect play day at the park, it was also a great boating day for those out on Colpoy's Bay."

Paul, Aiden, Connor and I had a great afternoon at the park until it was time for them to leave for home around 2:00 p.m.. They went their way and I went back to my sleeping "Crabby Cabbie" and a house that was in much need of my attention.
I never did get around to the other 1/2 bushel of tomatoes, so hopefully they will keep until tomorrow, as it will not be happening anytime soon today either.
With all the fruit and veggies that have been on my countertops at any given time this Summer, there has also been some pesky little Fruit Flies along with them. My friend Elsie had just emailed me a solution for these "little" problems, just the other day.
This letter is from
The Smoothie Handbook
, and was in response to one of Elsie's relative's inquiries.
Ever regreted not cleaning up the kitchen one evening? By morning you're greeted by miniature flies swarming your kitchen. Well... I was there this past weekend. I needed to do something about it. I was taught growing up that the only way to kill off these annoying bugs was to starve them.
I don't know about you... that is hard to do when I am a fruit fanatic. I have at least 2-3 bunches of bananas on the counter at all times. The first bunch of bananas is ready to eat. The second bunch has 4-5 days until ripe. And the third bunch is ready in little over a week. Plus, many times I have other fruits sit on the counter for a day or two. So... what can I say... fruit flies love my house!
In my mind, there must be an easy way for a fruit fly free house. So I looked online and found fruit fly traps for 2 for $14.95 plus shipping. I was almost ready to type in my payment information, when I found out that there is a super easy way to get rid of those pesky fruit flies with equipment that I have at home.
So I had to try it. Here are pictures of my results within 24 hours: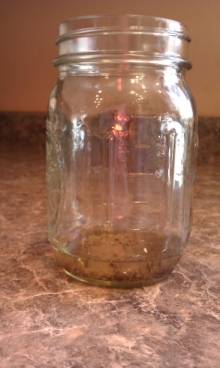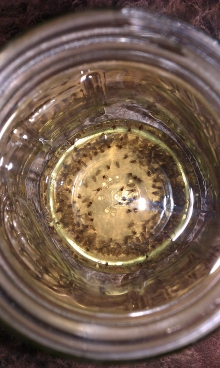 Crazy... I know! It really worked! So, what did I do? I'll lay out everything that you'll need:
Fruit Fly Liquid Quicksand
1. Jar (pint jar works great)
2. 1/3 cup to 1/2 cup Apple Cider Vinegar
3. Couple of drops of Dish soap
Mix the vinegar and dish soap together in the jar. Now you are set to catch your unwanted roommates. It is that simple! The vinegar attracts the fruit flies and the dish soap doesn't allow the flies to sit on top of the vinegar. They sink right into the liquid.
If you would like, you can use plastic wrap poked with holes as a lid for the jar. But I didn't find that near as effective. I only caught a few flies that way.
If you don't happen to have cider vinegar in your cupboard, you can conveniently
buy it at iherb.com
.
I hope this tip helps you still enjoy your fruit smoothies without those annoying little fruit flies.
Happy Blending!
DaNae
There it was all spelled out for me all in a "JAR".....just in time, as I have had a couple of armies invade my kitchen this Summer, and still was in need of some knowledge ammunition. Thanks again for sharing with me, Elsie.
That was that and now here I go with a new week ahead of me with new and more ammunition under my belt.
Wiarton Airport's weatherman has to say about what the rest of the day will be in a weather sense....
Today:
Sunny this morning then a mix of sun and cloud with 30 percent chance of showers this afternoon. Risk of a thunderstorm this afternoon. Fog patches dissipating this morning. Wind becoming southwest 20 km/h late this morning. High 26. UV index 6 or high.
Tonight:
Partly cloudy. 30 percent chance of showers early this evening. 40 percent chance of showers before morning. Risk of a thunderstorm. Wind southwest 30 km/h gusting to 50. Low 20.
Looking pretty good for this morning at least.
Birthday wishes to be made and people to see in my day ahead, so I am off and running, once again,
"Just North of Wiarton & South of the Checkerboard"
.